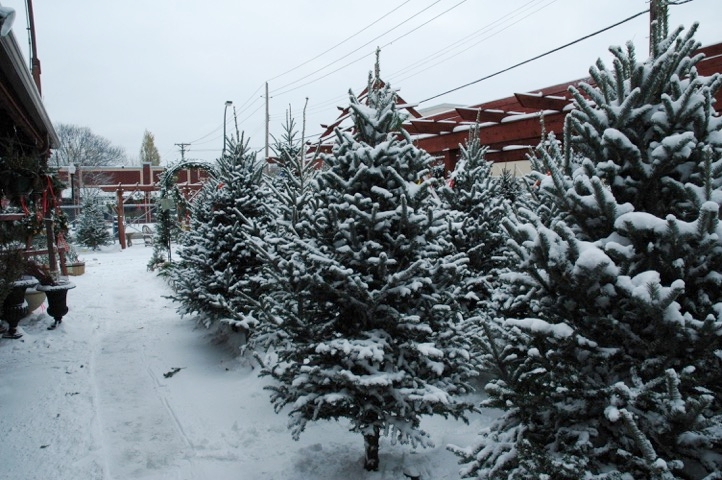 Offering a Full Array of Sustainably Sourced Christmas Trees
for Your Decorating Pleasure!
Starting the week of Thanksgiving, we'll have a great selection of trees, along with other handmade holiday items. If you like, we'll give your tree a fresh cut and secure it onto your car, sled, bike, etc.
TREE PRICES
Our trees are priced by type and height. Most popular are the 6-8 foot trees, but you'll find trees from 4 to 12 feet tall.
SUSTAINABLY FARMED CHRISTMAS TREES
6-8 foot tall trees range from $47-$87, depending on the type of tree and height.
The overall price range is from $25-$100 depending on height and variety. We offer Fraser Fir, Balsam Fir, Eastern Balsam, Various Spruce and White Pine in classic shapes and more wild, natural forms.
LIVING CHRISTMAS TREES
Due to early freezing temperatures we were unable to obtain potted spruce this year. For those of you wishing have living option, consider a Norfolk island pine. this indoor tropical can not only serve as a Christmas tree, but will liven up your indoor space year round! Sizes and prices vary. Please stop in to see what we have.
TAKE A LOOK WE'D BE HAPPY TO HELP YOU SELECT AND LOAD YOUR PERFCT TREE...
What Makes Your New Christmas Tree So Special?
Your tree was grown on Wade and Heather Comstock's family farm in Wisconsin.
Wisconsin-raised Wade was trained by Henry Anderson, MEG's original tree farmer, and the pioneer of our sustainably grown, herbicide-free trees. Wade started working for Henry in 1993 and started his own tree farm in 2000 after graduating with a degree in Forestry Administration and Utilization. The Comstock family operation grows trees on 150 acres of land, and also manages trees from other farms. The trees we carry from Wade are not sprayed with herbicide, instead the tall weeds are mowed between rows of trees. Occasionally you will see a few sprigs of grass or weed - consider this a good sign. You're extra lucky if you get a bird's nest!
Many of you have asked what "sheared" and "natural" mean. A sheared tree has been shaped by cutting the terminal leader and side branches of the tree to promote denser growth and to shape it into the form many of us think of as the traditional Christmas tree. In typical Christmas tree species, growth rates accelerate in the second to fourth year after planting. This growth is particularly pronounced in the terminal leader and the top whorl of branches, creating what could be described as a spindly or rangy tree, but is also lovingly called natural. Most of our natural trees have had some minimal shearing, but are primarily as you'd find them in the forest.
WHICH IS THE BEST TREE TO GET?
The Answer, of Course, is the One You Love the Most.
Fraser Fir has become a very popular tree due to it's short, strong needles, its tendency to hold its needles, and its compact form. It is native to the mountains of the Eastern United States.
Balsam Fir will always be associated with Christmas - the smell of balsam is what everyone comments on as they walk through the store. It is native to Minnesota and all of Central Eastern North America.
Eastern Balsam, gaining in popularity, has characteristics of both Fraser and Balsam Firs, including nice smell and good needle habit.
White Pine has strong and loyal customers! It's soft, long needles offer a completely different look and feel. It is native to Minnesota and all of Central Eastern North America,
Spruce, such as Meyer and Black Hills, have straight, structured needles and cool blue to green color. Black Hills Spruce is native to the Central US.
Red Pine, or Norway Pine, is the state tree of Minnesota. It's long, structured needles and open shape have a special draw.